Professional House Washing
Green & Clean Power Washing Professionals
Quality Service Guaranteed. Veteran Owned. Military & Package Discounts Available
Professional House Washing
Have you been thinking of a fast way to spruce up the exterior of your home? Green and Clean Pro can service your home and exterior using gentle soft wash techniques to brighten your home and give it curb appeal in no time!
Soft washing safely removes unwanted buildup living on your exterior, such as mildew, algae, dirt, and grime with no risk of damaging your property, commonly found with outdated, pressure washing methods.
WHAT MAKES SOFT WASHING THE BEST WAY TO CLEAN YOUR EXTERIOR?
Cleaning with care: Our low-pressure process applies a subtle cleaning agent onto our client's property and is rinsed with water thereafter to ensure the target is clean; whereas older, more commonly used high-pressure washing techniques blast the siding and landscaping with high amounts of pressure to beat unwanted growth or filth away, leaving precious homes with scars and unrepairable damage without fail.
Cleaner for longer: Our soft wash also delays the timeframe of any new organic growth by up to four times with the bonded cleaning agents in our solution. This delay in any new growth can have your property looking cleaner for longer!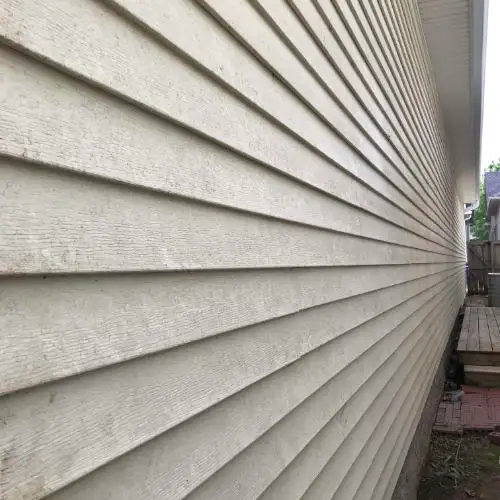 Green and Clean Professionals provides professional cleaning services for homes in Russellville AR. We know that homeowners are often busy with work, family, and other commitments, so we offer a variety of services to fit any schedule and budget. These range from periodic to one-time deep cleans.
Benefits of House Washing Services
Not only will hiring a professional cleaner save you time, but it will also save you money. You can rest assured that your house or office spaces are properly cleaned because the cleaning professionals at Green and Clean Professionals are trained to use green cleaning methods to provide you with the best possible service.
The benefits of hiring a professional cleaner include lower health risks and less time spent on household chores. The surfaces in your home won't have harmful chemicals sitting on them for hours at a time. You'll be able to spend more quality time with your family without worrying about leaving your messes for later – hire a local cleaner today!
How to Get Started
If you're interested in getting started with our house washing services in Russellville AR, the first step is to give us a call! We'll set up a time for a free consultation so that we can discuss your needs and give you a quote.
Once you've decided to work with us, we'll take care of everything else! We'll provide all the supplies and equipment needed to get the job done, and we'll work diligently to make sure your home looks its best.
How to Prepare for House Washing
If you're hiring a professional house pressure washing service, there are a few things you can do to prepare. First, move any outdoor furniture or decorations that may be in the way. Also, make sure to clear any debris from the area that will be washed.
We'll do the rest!
Why Hire Professionals when it Comes to House Washing
When it comes to house washing, it's important to hire a professional like Green and Clean Professionals. Our team of experienced and qualified cleaners know just how to get your home looking its best. We also use the latest technology to clean your windows and surfaces, which means they will be streak-free and shiny. Additionally, our team is licensed and insured, so you can relax knowing that your property is in good hands.
We can provide thorough cleaning services that will leave your home shining and free of dirt, dust, and other debris. We have the experience and expertise to get the job done quickly and efficiently, so you can get on with your life!
Plus, when you work with us, you can rest assured knowing that all of our work is backed by a 100% satisfaction guarantee. We want you to be happy with the results of our services, so if for any reason you're not satisfied, let us know and we'll make it
Hiring a professional cleaner to wash your house or office spaces is an easy, affordable way to keep them looking their best without sacrificing time or comfort. We offer just about anything you could need, from one-time cleans to weekly, monthly, quarterly, and even yearly services. Our team of trained professionals have years of experience between them, and they bring all the supplies needed so there's no mess left behind – except for a freshly cleaned area! Call today for a free consultation and estimate – we look forward to working with you soon!
Green and Clean Professionals offers soft wash roof cleaning, gutter cleaning and whitening, patio cleaning and pressure washing driveway services. Whether you want a single outdoor area cared for or the whole house cleaned inside and out, we provide thorough solutions to your needs.
To view our full list of services, check out our services page!